Photographs – The Glovemaker
You might enjoy a few pictures I took while on a research trip at Capitol Reef National Park, the setting for The Glovemaker.  I was there during the winter so I could experience the climate and terrain as my characters do.  During the first few days, there wasn't any snow.  Then, to my joy, it snowed, and snowed, and snowed.
(Two photos are in the public domain and are courtesy of the U.S. National Park Service.)
An Orchard in the Snow.  Notice the irrigation ditch.  In my mind's eye, this is Deborah and Samuel's land.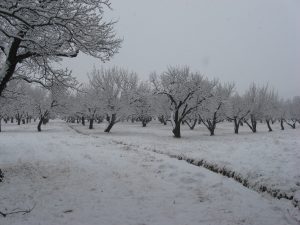 Floral Ranch near Pleasant Creek.  The ranch is first mentioned in Chapter Two by the stranger who comes to Deborah's cabin.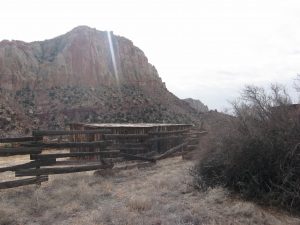 Sulphur Creek Bridge.  Notice the cliffs in the background.  In my imagination, Nels' property is to the right of the bridge.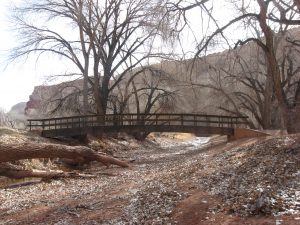 View of Sulphur Creek from the Bridge.  This is how the creek looks when Deborah crosses it in Chapter Three.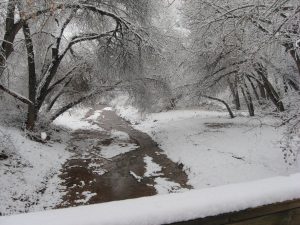 Junction Schoolhouse.  (Courtesy of the U. S. National Park Service.)  In The Glovemaker, Deborah's brother-in-law is the schoolmaster here and religious services are held in the schoolhouse on Sundays.  Important meetings occur here in Chapters Eleven, Fifteen, and Twenty-One.

The Fremont River.  This loud, fast-flowing river roars at the point where the quieter Sulphur Creek flows into it.  The convergence inspires me to think about the disruption that occurs when two forces come together.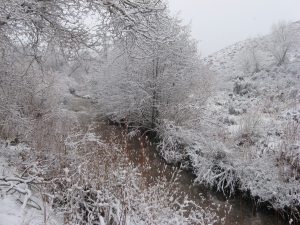 Trail in the Cliffs Above Orchards.  This is where Nels takes Braden in Chapter Nine.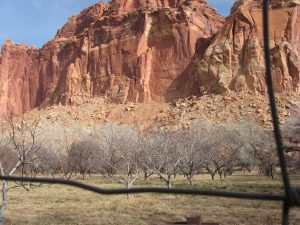 Trail that Overlooks Junction.  (Courtesy of the U.S. National Park Service.)  This is where Nels goes in Chapter Twenty-Two.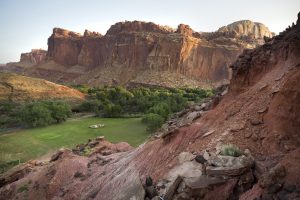 Gravesite of the Woman Who Inspired The Glovemaker.  I could not have written the book without her.